1.

Each word in the album's title refers to a different member of the group.
Just as each of the girl's names make up part of the group's acronym TLC — T-Boz, Left Eye, Chilli — so too do each of the words in the album's title correspond to a member of the group. T-Boz is the cool. Chilli is the sexy. And Left Eye is the crazy.
2. Left Eye isn't on the album nearly as much because she was in rehab.
Left Eye pleaded guilty to her arson charge, and the only reason she dodged prison was because she blamed it on alcohol. She was sent to a rehab facility instead, which is why Left Eye appears on so little of the album. Her rehab facility only released her for a couple of recording sessions, during which time she cut just a handful of album-worthy rap verses.
But Left Eye's absence allowed the band to stray from their hip-hop roots and really push the deep, soulful R&B sound that made CrazySexyCool so marketable.
3. TLC went bankrupt shortly after releasing the album.
Though CrazySexyCool sold 11 million copies in the U.S., making an incredible $75 million dollars for their record company, TLC's ludicrously exploitative contracts only paid each of the members $50,000.  Left Eye still owed $1.3 million in the damages done to her boyfriend's home. One year after the biggest R&B album in history exploded on the scene, the girls had to file Chapter 11 bankruptcy in 1995.
4. TLC held up Clive Davis at gunpoint to get the royalty money they thought they were owed.
Between the release of the album and the bankruptcy, Left Eye recruited some of the girls she met at her rehab facility to raid their record company, Arista Records. Their plan was to storm the offices, steal all the TLC albums and merchandise they could find and demand more money from their label boss, industry legend Clive Davis, by holding him at gunpoint.
Amazingly enough, their tactics worked. Davis gave them a little bump in their contract, but not enough to delay the inevitable Chapter 11. TLC, however, does not advise anyone to follow their example. "I wouldn't say do what we did … thank God we didn't go to jail," T-Boz said in offering advice to others starting out in the music industry. "Educate yourself. Learn about the business you're getting into."
5. TLC provided Outkast with its first national audience.
The girls from TLC grew up and formed their group in Decatur, Ga., near Atlanta, which is Outkast's hometown. The last track of CrazySexyCool, called "Sumthin' Wicked This Way Comes," features a verse from a little-known MC at the time named Andre 3000. Outkast's first album, Southernplayalisticcadillacmuzik, had dropped earlier that year, in April 1994.
6. … and Cee-Lo Green.
The name Thomas Callaway — a man better known as Cee-Lo Green, of Goodie Mob, Gnarls Barkley and The Voice fame — appears in the liner notes for the album as backing vocals. T-Boz discussed his involvement in a 2013 Fuse.tv interview: "[Cee-Lo] was chilling in the studio, so I was like, 'Hey, you sing good, why don't you [sing backup]?' He was in Goodie Mob, we grew up together, we go way back. He did and it was amazing! I love his voice. Then, everybody knew him as a rapper. Now, the world knows him as a singer, but he was like that years ago."
7. TLC wrote "Waterfalls" to show support for AIDS victims.
TLC had been major proponents of safe sex since their very beginnings. Lisa "Left Eye" Lopes got her nickname for the way she taped a condom over her left eye to promote safe sex in the group's early videos. Fans would come up to the TLC members at shows and tell them how much it meant that they were discussing AIDS and contraception when no one else was. The girls found this very moving and wrote "Waterfalls" as a tribute to those fans. The song became one of the earliest examples of socially conscious lyrics in mainstream pop music, and the members became paid spokespeople for HIV/AIDS awareness when their singing careers started to wind down.
8. TLC also recorded the 'All That' theme song during the 'CrazySexyCool' sessions.
During those same sessions for CrazySexyCool, TLC also recorded the theme song for a new sketch comedy show premiering on Nickelodeon called All That. That ill rap verse in the opening theme is none other than Left Eye Lopes: "The show is All of That and yes we do it all the time / So sit your booty on the floor or in a chair, / Ground or in the air / Just don't go nowhere"
9. TLC's Prince cover helps bring him back to the mainstream.
The song "If I Was Your Girlfriend" is a cover of a Prince track. It was not the first Prince cover the group released. They also recorded his "Get It Up" for the movie House Party 3.
At that point, though, Prince wasn't popular at all. In 1994, he was the subject of abject mockery. Today, of course, Prince's music is a topic of academic study and is recognized today as a major influence on all modern music. In 1994, TLC helped remind people how great the Symbol's music was.
10. Left Eye has the lyrics to "Waterfalls" inscribed on her casket.
The inscription reads: "Dreams are hopeless aspirations, in hopes of coming true, believe in yourself, the rest is up to me and you."
11. TLC's "CrazySexyCool" was the 1st album by a female group to go diamond.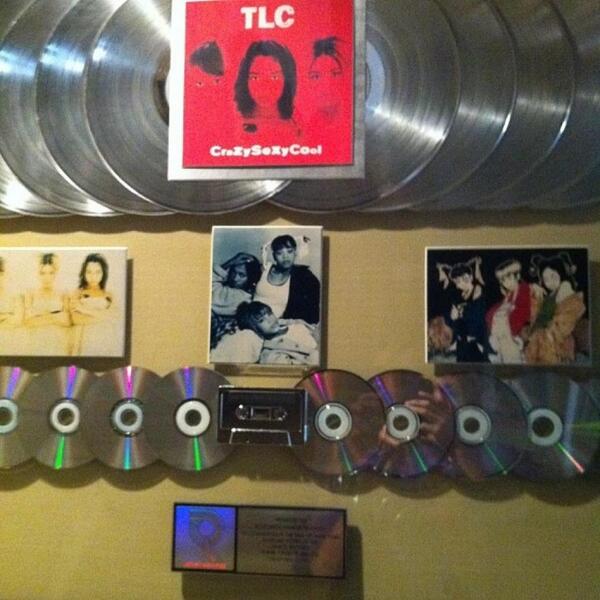 Diamond is a term created by the RIAA in 1999 to certify when a record sells over ten million copies. CrazySexyCool helped solidify TLC's place as the best selling female group of all time.
12. TLC was originally named "2nd Nature."
"2nd Nature" was the idea of then-teenaged Crystal Jones — the "C" before being replaced by Chili. The name change was the idea of manager Perri "Pebbles" Reid (thank you Pebbles.) Oddly enough, the name was adopted by a short lived all-male R&B group three years later so I guess they made the right move.
13. Future Real Housewives of Atlanta cast member Kandi Burruss wrote "No Scrubs."
Before joining the other ladies on The Real Housewives of Atlanta, Kandie Burruss wrote "No Scrubs" alongside producer Kevin "She'kspere" Briggs and fellow Xscape member Tameka "Tiny" Cottle (they had a hit in 1993 called "Just Kickin' It" before forming their own duo called KAT.) At the time, Briggs was an in-house producer at LaFace records, where he wrote the original version of the song. Burruss and Cottle changed the lyrics, including the now-famous "Scrubs" term. The execs at the label thought the song would work best for TLC and asked them to give up the single. Burruss later went on to write "Bills, Bills, Bills" for Destiny's Child with the help of Briggs.
14. The first voice heard on CrazySexyCool belongs to Phife Dawg of A Tribe Called Quest
15. Their style was like the 4th member of the group
16. Just days before TLC singer Lisa "Left Eye" Lopes died in a car accident, she was in a vehicle involved in another fatality.
While traveling in a van driven by her assistant in Honduras, Lopes and her party accidentally hit a ten year old boy who jolted across the road chasing his brothers and sisters. The van hit the boy and although he was rushed to hospital, he died almost instantly. Lopes paid for the funeral costs and compensated the family for their loss. Her assistant was never charged.
17. TLC appeared in the movie House Party 3 and the Prince-penned "Get It Up" to the soundtrack of Poetic Justice.
18. In 2005, a TLC reality show, R U the Girl, aired on the UPN network, but was criticized for what appeared to be the group's hunt for a Lopes replacement.
At the end of the series, the winner, Tiffany Baker (a.k.a. O'so Krispie), recorded a new song with T-Boz and Chilli, "I Bet,"
19. TLC's Fan Mail managed to end pop star Britney Spears' three week run at No. 1.
20. Left Eye rapped on former Spice Girl Melanie C's "Never Be the Same Again."
Sporty Spice's solo career did fairly well, and "Never Be the Same Again" went #1 in 35 countries including the UK.